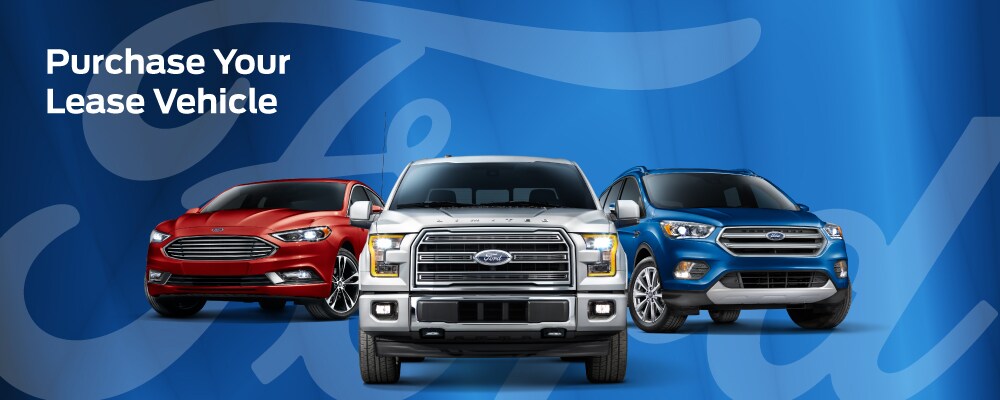 With the Red Carpet Lease, you have the option to purchase your lease vehicle at lease-end. When you purchase your vehicle you are not responsible for Excess Wear and Use or excess mileage charges. Follow these simple steps to help ensure a smooth and convenient vehicle purchase. See how easy it is to own your Ford and go further.
Get a purchase option price
The Red Carpet Lease Agreement includes the purchase option price at lease-end. To obtain your vehicle's purchase price prior to lease-end, login to Account Manager or contact Customer Support. (Of course, you can always reach out to Friendly Ford, too.)
Contact Friendly Ford
Talk with your Friendly Ford Sales Consultant about:

Your vehicle purchase options
The final purchase price, including taxes and other charges
Your appointment to purchase your lease vehicle on or before your scheduled lease-end date
Purchase your lease vehicle
Purchase your vehicle from Friendly Ford* at lease-end. To fulfill your lease obligations, you'll need to:

Satisfy any remaining financial obligations
Facilitate lease-end requirements, such as reviewing and signing the Odometer Statement (required by federal law)
Complete your vehicle purchase transaction
Please note: Failure to complete lease-end transactions by your lease-end date could result in additional charges as described in your Red Carpet Lease Agreement.
*If Friendly Ford is not your originating dealer, or you have moved and it is no longer convenient to return to your originating dealer (the dealership which originated your lease), you may return or purchase your lease vehicle through any participating Ford Dealer, including Friendly Ford. Be sure to schedule an appointment in advance.
Questions About Returning Your Lease?