HONORING FRONTLINE HEROES
Ford Motor Company is grateful to you for your honorable service to our country and would like to salute those who serve. That's why we're proud to offer you and your families a First Responder Bonus Cash Offer.
In any way we can, Ford continues to support our first responders and those on the front line of this pandemic. To those carrying the weight of the nation, we're grateful for your service and we're proud to help. As a thank you for all that you have done and continue to do, Ford is offering $500 Bonus Cash on an eligible new Ford vehicle.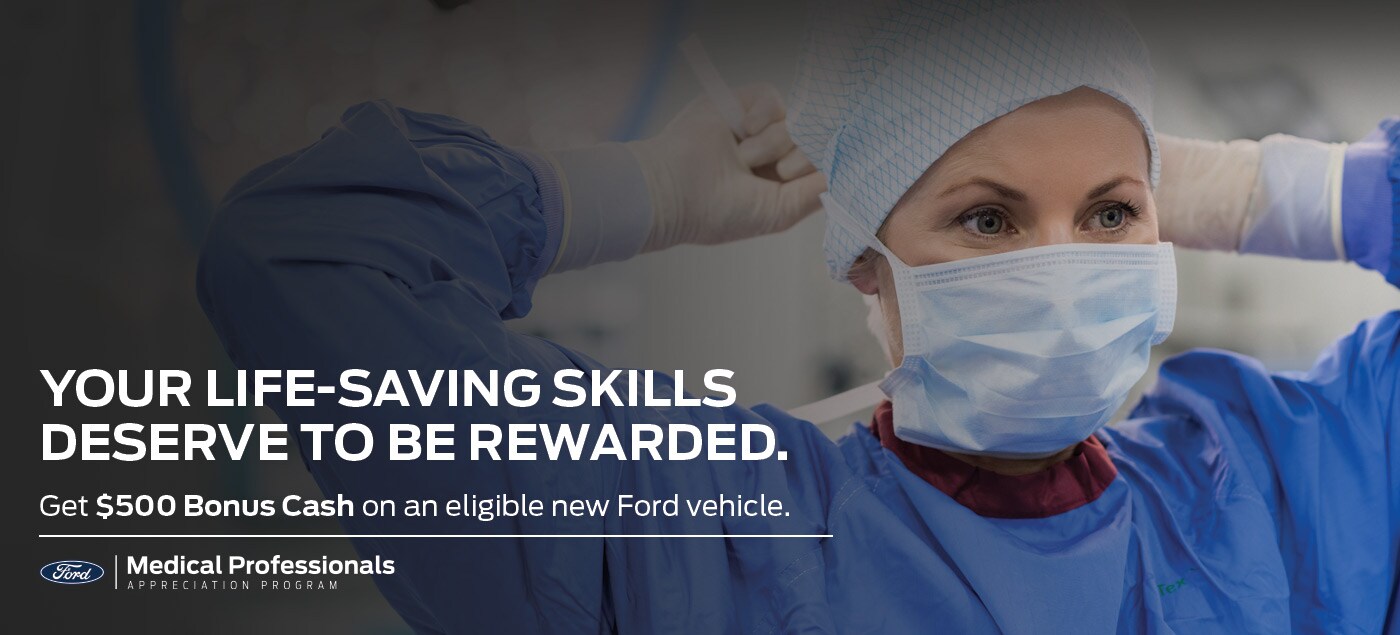 REGISTER FOR YOUR OFFER
ELIGIBLE OCCUPATIONS THAT QUALIFY FOR INCENTIVE:
911 Dispatchers
Police
Police Officer
Sheriff/Sheriff's Deputy
Correctional Officer
State Trooper
Federal Law Enforcement Officer
(Example: Department of Public Safety, Central Intelligence Agency; please note that not all Federal Law Enforcement Officers qualify for the program.)
Fire Department
Career Firefighter
Volunteer Firefighter
EMT
Medical Professionals
Advanced Practice Registered Nurses (APRN and ARNP)
Anesthesiologist
Athletic Trainers
Audiologists
Cardiologist
Cardiovascular Technologist
Chiropractors
Clinical Laboratory Technician & Technologists
Dental assistants, Dental hygienists & Dentists
Diagnostic medical sonographers and cardiovascular technologists and technicians
Dietitians and nutritionists
Doctors
Emergency medical technicians (EMTs) and paramedics
ER Nurse
Exercise physiologists
Family Practitioner
Genetic counselors
Health Information Technician
Healthcare Administrators, Administrative & Clerical Positions
Home health aides and personal care aides
Home Health Nurse
Hospital General Staff & Receptionist
Licensed Practical Nurses (PN/LPN/LVN)
Massage therapists
Medical Assistant
Medical Equipment Preparer
Medical records and health information technicians
Medical transcriptionists
MRI technologists
Neurologist
Nuclear medicine technologists
Nurse anesthetists, nurse midwives, and nurse practitioners
Nurse Practitione
Nursing Assistant & Orderlies
Occupational health and safety specialists and technicians
Occupational Therapist
Oncologist
Opticians
Optometrists
Orthotists and prosthetists
Pediatrician
Pharmacists & Pharmacy technicians
Phlebotomists
Physical therapists, assistants and aides
Physician & Surgeons
Physician Assistant
Podiatrists
Psychiatric technicians and aides
Radiation therapists
Radiologist & Radiologic Technologist
Recreational therapists
Registered Nurses
Respiratory Therapist
Speech-language pathologists
Surgeon
Surgical technologists
Therapist
Veterinarians
Veterinary assistants and laboratory animal caretakers
Veterinary technologists and technicians
First Responders Appreciation Cash (PGM#37412) is exclusively for active members of an eligible First Responder Association and their eligible household members. Medical Professional Appreciation Cash (PGM#37636) is available for eligible medical professionals and their eligible household members. Available on the purchase or lease of an eligible new 2020/2021 Ford and Lincoln vehicles. Not available on Ford Mustang Shelby GT350®, Mustang Shelby® GT350R, Mustang Shelby® GT500®, Mustang Mach 1, Ford GT, F-150 Raptor, Bronco, Bronco Sport, Mustang Mach-E and Lincoln Continental Coach Doors. May be used with other Ford and Lincoln public offers. Limit 5 purchases or leases. U.S. residents only. Take new retail delivery from an authorized Ford or Lincoln Dealer's stock by January 4, 2021. Contact your dealer for complete details and eligibility.