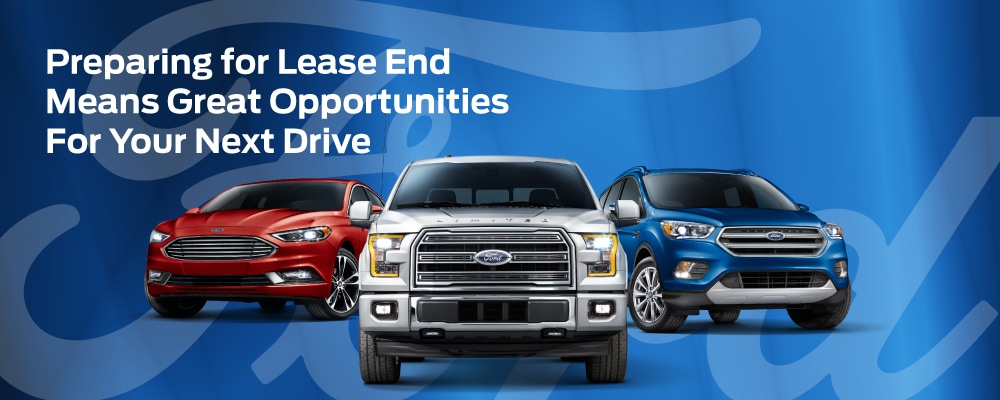 Your Friendly Ford Lease is Almost Up
Is it the right time to drive off in a new Ford? Let us show you how easy it is to prepare for the lease-end process.
Explore your options at Lease-End
It's the start of everything easy!
At lease-end, you have three great options to choose from and Friendly Ford is ready to help make the experience easy and convenient for you.
Discover your lease end options:
Important Information about Wear and Use
Your Lease End Countdown
We'll break it down for you, based on where you are at in your Red Carpet Lease experience. We've got you covered, every step of the way. Below, you''ll see a brief breakdown of what happens within the last 6 months of your lease.
6 MONTHS PRIOR
Identify Your New-Vehicle Needs
It's smart to determine what you need from your next Ford and what you really want. It'll make your next purchase decision at Friendly Ford much easier. We've created some useful tips and tools to help with your decision.
Check it out:
------------
4 MONTHS PRIOR
Receive Your Lease-End Mailing
We make it easy with a personalized lease-end mailing, sent approximately four months before your scheduled lease-end. It has important information you need about:
If you have any questions after reviewing your lease-end mailing, please contact Friendly Ford below.*
------------
3 MONTHS PRIOR
Discuss Lease-End with Us
Friendly Ford is ready to help with all your lease-end options. Contact us below for more details about returning your lease vehicle and to discuss your new-vehicle needs.
Be sure to ask about available programs and offers that can make your transition into your next vehicle easier.
------------
2 MONTHS PRIOR
Prepare for Vehicle Inspection
It's getting near the end of your lease. That means it's time for the [LINK]Lease Vehicle Inspection[LINK]. We make it convenient by allowing you to choose an inspection location ideal for you, such as your home or office.
The vehicle inspection provides you with detailed information about the condition of your vehicle, including an assessment of any excess Wear and Use.
This assessment will allow you to arrange for any needed repairs before returning your vehicle.
------------
1 MONTH PRIOR
Schedule Your Lease-End Appointment
Have you contacted Friendly Ford yet? It's a good idea to do it now and schedule a lease-end appointment to either Buy or Lease a New Ford, Purchase Your Lease Vehicle, or Return Your Lease Vehicle. (And don't forget to ask about current programs and offers!)
If your vehicle is in need of any repairs, the Friendly Ford Service Department has expert techs who use Original Equipment Manufacturer (OEM) parts to ensure your vehicle is in optimal running condition.
------------
0 MONTHS
Vehicle Return or Purchase
Time flies and it's now time to return it to Friendly Ford.* Please refer to Buy or Lease a New Ford, Purchase Your Lease Vehicle, or Return Your Lease Vehicle and discover how to make the lease-end experience convenient and easy.
*If Friendly Ford is not your originating dealer, or you have moved and it is no longer convenient to return to your originating dealer (the dealership which originated your lease), you may return or purchase your lease vehicle through any participating Ford Dealer, including Friendly Ford. Be sure to schedule an appointment in advance.
Questions About Returning Your Lease?
* Indicates a required field