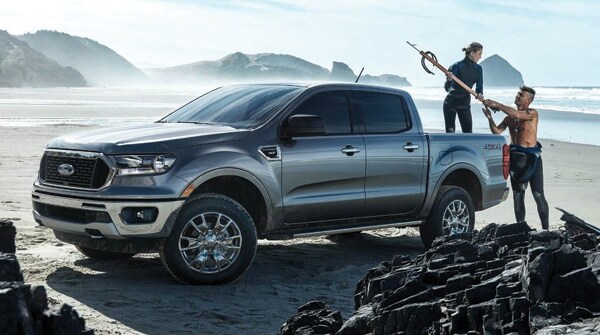 2019 will be busy with newly designed models hitting showrooms all around the country, but some of the new vehicles that Ford is putting out in the upcoming months are some of the most exciting. We're going to choose two vehicles that we're particularly excited about to focus on in this article. Read on to learn more about the 2019 Ford Ranger and the sporty Ford Edge ST.
2019 Ford Ranger
We are very excited that the Ford Ranger is returning to the U.S. this year! This new Ranger is entirely different than the one that came before it in 2012. It's also different than any of the Ford F-series trucks. The 2019 Ranger will be larger, better looking, and more modern than its predecessor. We have no doubt that this mid-size pickup is going to give competitors a run for their money, especially given Ford's impressive presence in the truck market.
At launch, the 2019 Ranger will only be offered with one engine option: the second generation 2.3-liter twinscroll turbocharged four-cylinder EcoBoost engine. No specs are available at this time, but we do know that the 2.3-liter in the Ford Explorer gets 280 horsepower and 310 lb-ft of torque. Will we see a hybrid Ranger? Or a diesel engine option? Or an off-road version? We think yes, but only time will tell.
2019 Ford Edge ST
The Ford Edge just missed being in the top five best-selling Ford vehicles in 2017, but with a facelift for 2019, we think that the Edge will appeal to even more people. It's already a terrific vehicle, with a facelift, it's going to take the competition by storm. In addition to updating the appearance of the Edge for 2019, Ford is also adding a brand new model to the lineup: the Edge ST. We're very familiar with the ST badge, but this is the first time that it will make an appearance on a Ford SUV, and it's something that we're very excited about.
The Edge has had a sport version before, the Edge Sport, and this had a 2.7-liter EcoBoost V6 that put out 315 horsepower and 350 lb-ft of torque. The new 2019 Ford Edge ST still has the EcoBoost engine but brings even more power. The new Edge ST puts out 335 horsepower and 380 lb-ft of torque. An 8-speed automatic transmission, an ST-tuned suspension, and all-wheel drive will all come standard on the newest Edge. Visually, expect to see a more aggressive grille, dual exhausts, and side skirts.
We love to see the innovation that Ford is bringing to the market, and we look forward to showing you some of the newest vehicles that we have to offer. Do you want to be one of the first people ever to own a Ford Edge ST? Or are you looking for a truck that's fun to drive, easy to park, and nice to look at? Give us a call at Friendly Ford, and we'll set you up in a test drive with the vehicle is right for you!