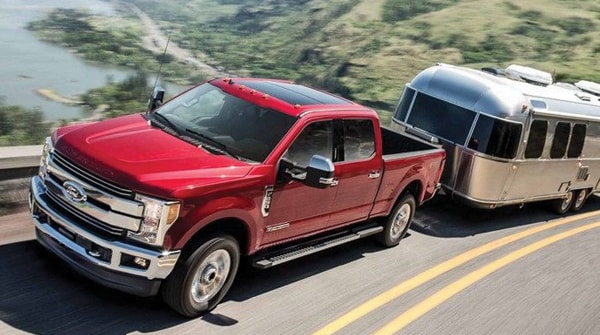 Of course, everyone is familiar with Ford's F-150 – it's been America's best-selling truck for 40 years. But what if you're looking for something a little more rugged, a little more capable? Ford has you covered; you can choose from the F-250 or the F-350 or the F-450. If you're looking for something that is capable but also drivable as an everyday vehicle, the F-250 is just the vehicle for you. Read on to learn more about the impressive Ford F-250 Super Duty.
Trims and Performance
The 2019 Ford F-250 Super Duty is available in six different trim levels: XL, XLT, Lariat, King Ranch, Platinum, and Limited. As we've come to expect with Ford trucks, no matter which trim level you choose, you can expect a competent truck with modern amenities.
Of course, Ford gives you options so that you can configure your F-250 as a regular cab, an extended cab (also known as a SuperCab), or a crew cab with either a 6.8-foot or an 8.2-foot bed length. And, you also have options when it comes to your engine, too. You can choose a 6.2-liter gasoline V8 produces 385 horsepower and 430 lb-ft. If you decide to upgrade your engine, you'll get even more power. Also available is the turbocharged 6.7-liter diesel V8 puts out an impressive 450 horsepower and 935 lb-ft of torque.
Comfort and Convenience
We've already gone over the great engine options available for the F-250 Super Duty but what about all the other bells and whistles? Ford makes it easy to integrate your cell phone thanks to two USB outlets and Bluetooth connectivity, as well as offering Android Auto and Apple CarPlay standard. You'll also have access to Ford's Sync interface which is very easy to use and gives this work truck a high-tech, modern feel.
As far as comfort goes, once you get in the F-250, you're not going to want to get out! The interior is comfortable, roomy, and functional – the trifecta! You'll also have adjustable pedals and a power tilt-and-telescoping steering wheel to ensure that drivers of different sizes can all be comfortable when driving this truck. Ford Sync is easy to us, and you can adjust most functions on the infotainment center screen.
If you think the F-150 just isn't enough for you, we believe that you'll meet your match in the impressive Ford F-250 Super Duty. Come visit us at Friendly Ford on Route 9 in Poughkeepsie for your test drive!