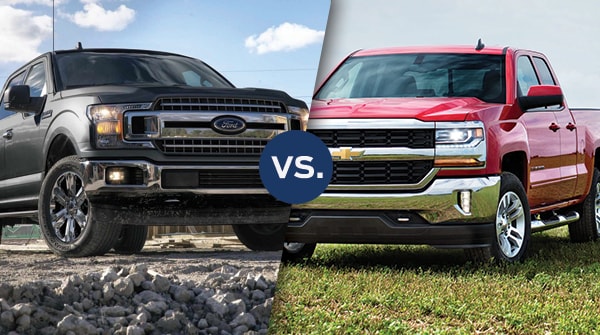 If you're looking for a truck in the Poughkeepsie area, chances are you have the Ford F-150 and the Chevrolet Silverado 1500 at the top of your list – and for good reason! Both trucks are well-priced, safe, technologically advanced, and will definitely get the job done. However, only one of these trucks is America's top-selling vehicle and it's the Ford F-150. Read on to learn why this truck has been the best-selling truck in America for over four decades now.
Convenience & Comfort
Ford F-150
One of the advantages of choosing a Ford is that there are many different options available to customize your vehicle so it's the best fit for you. Depending which cab you choose, you can comfortably fit three to six people and with the Crew Cab you can comfortably fit three adults in the back. The driver and front passenger seats are both extremely comfortable for long rides. If you're looking for more of a luxurious vehicle, Ford has that covered too. The higher trims give you the options for premium features like massaging seats and heated front and rear seats.
Chevrolet Silverado 1500
The interior of the Chevy Silverado is also well designed and rather spacious. However, you have to fully upgrade trim levels to get an upscale feel in the front seats. You'll also need to look to the Crew Cab models for ample space and support. The Silverado comes with three different bed lengths: 5.5 feet, 6.5 feet, and 8 feet long, however it should be noted that each bed length is only available with certain cab styles.
Performance
Ford F-150
Chances are if you're looking at an F-150 you care about the truck's performance. Well, here's another reason to consider the F-150 – it has best-in-class towing and hauling capacities and on top of that delivers impressive fuel economy. We call that a win-win.
The F-150 comes standard with a 290-horsepower 3.3-liter V6. Other options include the V6 EcoBoost engine, the V8, and the impressive off-road Raptor trim which makes 450 horsepower and 510 pound-feet of torque.
Chevrolet Silverado 1500
The Chevy Silverado also has several engine options for you to choose from; starting with the base V6 that puts out 285 horsepower and 305 and going up to a 6.2-liter V8, one produces 355 horsepower and 383 pound-feet of torque and the larger one puts out 420 horsepower and 460 pound-feet of torque.
Both of these trucks would be a great choice for anyone in upstate New York. We know that the competition in the full-size truck segment is quite fierce, but there's a reason that the Ford F-150 continues to be America's Number One Selling Vehicle. When it comes to drivability, efficiency, safety, and technology, the F-150 beats out all of the competition every time.
If you're looking for a truck, give us a call at Friendly Ford to schedule your test drive and learn for yourself why the F-150 is the best of the best!