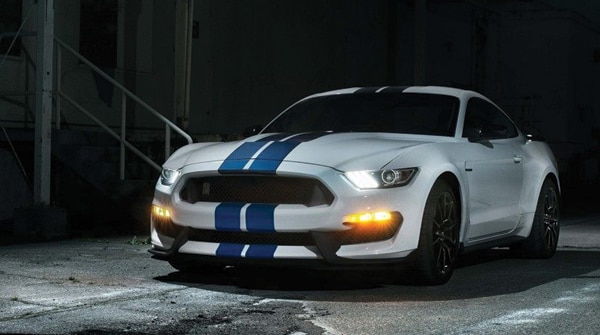 If you're looking for a classic muscle car, you probably know that you should be looking at a Ford Mustang. There's no doubt that the Mustang is fun to drive, but what else does it have going for it? Read on to learn why we think the 2019 Ford Mustang should be at the top of your consideration list.
What's New for 2019?
The Ford Mustang was refreshed for 2018 so you might think there isn't much to look forward to with the 2019 model. Well, you would be wrong.
For 2019, Ford is bringing back the classic Bullitt model which has a v-8 engine that puts out 475 horsepower. This special-edition, high-performance Mustang comes out on the 50th anniversary of the Steve McQueen movie that made the green machine so famous. (In case you're a bit out of the loop, the 1968 film Bullitt features what many to believe as one of the best car chases in cinematic history and it happens to involve a green Mustang GT 390 fastback.)
If the Bullitt isn't for you there are plenty of other reasons to get excited about the 2019 Ford Mustang.
We also have the Mustang GT California Special to look forward to in 2019. This model is inspired by the Mustang GT/CS dealer special which was also first introduced for 1968. This model is based on the Mustang GT but pays homage to the original by featuring a blacked-out grille and a stripe. This model matches the stock Mustang GT and puts out 460 horsepower.
Lastly, we should mention that Ford has expanded the color palette for 2019 and will now offer vintage-inspired colors including Need for Green, Velocity Blue, and of course the Bullitt's famous Dark Highland Green.
Performance
Even if you don't want to go with the Bullitt or the California Special, there are other trim levels to choose from. The Mustang EcoBoost is powered by a 2.3-liter turbocharged inline-4 that puts out 310 horsepower and 350 pound-feet of torque. The Mustang GT has a 5.0-liter V-8 that puts out 460 horsepower and 420 pound-feet. You'll have the option for a six-speed manual or a 10-speed automatic for both of these models.
Topping out the range is the Shelby GT350 and GT350R. These models have a 5.2-liter V-8 which puts out 526 horsepower and 429 pound-feet. The Shelby models are only available with a manual transmission.
Rumor has it that the Shelby GT500 will be hitting the market next year and will be good for over 700 horsepower.
The bottom line is that there is a lot to be excited about with the 2019 Ford Mustang and we would love to show you just how fun this iconic car really is to drive. Come visit us at Friendly Ford on route 9 in Poughkeepsie to schedule your test drive today!