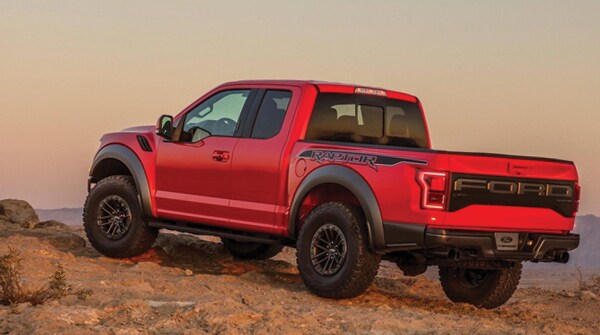 Whether you're looking for a truck that can handle off-road adventures or just a truck that looks cool driving through the city, the 2019 Ford Raptor is the truck for you. There isn't anything else like it on the market and you'll have peace of mind knowing that you have the reliability and capability that we've come to expect with Ford vehicles.
Performance
The Ford Raptor is all about performance so we'll start here with our review.
New for 2019 is the Raptor's Trail Control - you can think of this feature as low-speed, off-road cruise control. Trail Control will manage your Raptor's speed as you navigate up or down hills between 1 and 20 mph. The biggest benefit of this feature is it takes the work away from the driver and can potentially lead for safer driving in a rock crawling environment.
What we've come to know and love about the Raptor is the Fox twin-tube bypass units as they give the Raptor­­ it's character and significantly aid in its ability. In 2019, all Raptors will come with these dynamic dampers that Fox is calling Live Valve which control the oil-flow rate through the base compression valve. Ford utilizes a continuously controlled damping (CCD) controller that is written specifically for the Raptor.
The Raptor is equipped with a twin-turbo 3.5-liter V-6 engine that puts out 450 horsepower and 510 pound-feet of torque. Speed tests are consistent with what we saw in previous Raptors and you can expect the 2019 Raptor to hit 60mph in just over 5 seconds.
There are other impressive benefits to consider too like roll-control. This functionality is now present in Normal and Sport models but is disabled in off-road modes for safety reasons.
The only other significant change to report is the new addition of Recaro seats. These are included in the Interior Color Accent Package but are available in other trim levels as well. These seats are more supportive than standard seats so if you're going to be taking your Raptor off-road this is a good option for you. Ford added blue microsuede inserts to the seatback and cushion area which will hold passengers in place better than leather-only seats or obtrusive bolsters.
There is no doubt that the 2019 Ford Raptor is incredibly capable and a blast to drive. Give us a call today at Friendly Ford to learn more about the new 2019 Ford Raptor and schedule your test drive today!