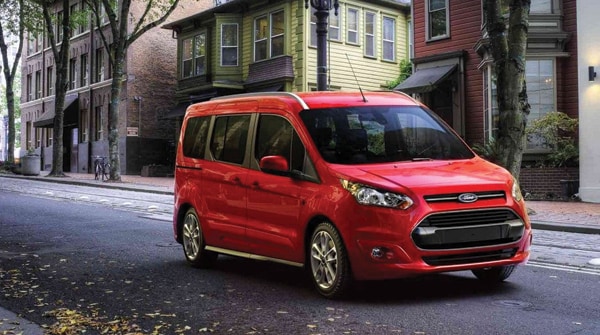 The Ford Transit Connect Wagon and van were the first in its class to arrive in the U.S. back in late 2009. Since then there have been several other copycats that have come to market, but the Ford Transit Connect still reigns supreme and is getting an impressive refresh for 2019. Read on the learn more about this vehicle; you might be surprised to find that it's an excellent fit for you and your family!
Performance
There are two new engines to choose from with the 2019 Ford Transit Connect. The first is a 2.0-liter direct-injected flex-fuel four-cylinder; exact output numbers have not been released yet, but there's chatter that its output will be similar to that of the Ford Focus.
The second engine option is a little more interesting as it is the first of its kind in this segment: a 1.5-liter turbodiesel that Ford is calling "EcoBlue." There are quite a few impressive tech features of this engine, but one of the most noticeable is how much smoother and quitter the engine's operation is. Additionally, Ford anticipates a highway rating of at least 30 mpg and the 2019 Transit Connect is expected to have a payload capacity between 1,100 – 1,600 pounds.
The 2.5-liter Duratec four-speed and six-speed automatic will continue to be available to fleet purchasers but will only be available on the base XL wagon.
Comfort & Convenience
The interior of the 2019 Transit Connect does not look like a work truck. Several features make this vehicle both convenient and comfortable for drivers and passengers alike. In fact, Ford is marketing it as, "everything you need in a minivan, with nothing you don't – such as DVD players and vacuums – at an unbeatable low price."
Some of the interior features include a new "floating" 6.5-inch screen that supports the latest SYNC3 connectivity, including Ford+Alexa personal assistant and a standard 4G LTE modem that is capable of connecting up to ten devices to the internet. Of course, there are two USB ports for charging and a cubby below the infotainment screen that can keep your devices secure while you're driving.
And for any of the five passengers in the back, they will have access to 12-volt and 110-volt outlets as well as their own climate controls.
For the driver, there is a slew of impressive safety features that all come standard. Some of the driver-assist features that are available include active cruise control, forward collision warning with pedestrian detection and automatic emergency braking, rear cross-traffic alert, blind-spot monitoring, and lane keep assist.
What was once considered solely a work truck has now evolved into a modern-day, family friendly minivan with more space than your average minivan and convenience features that we've come to expect. Do you plan on hitting the road this Fall to take advantage of the beautiful New York state countryside? Consider stopping by Friendly Ford first to check out the new 2019 Ford Transit Connect and learn why this should be your next road trip vehicle!