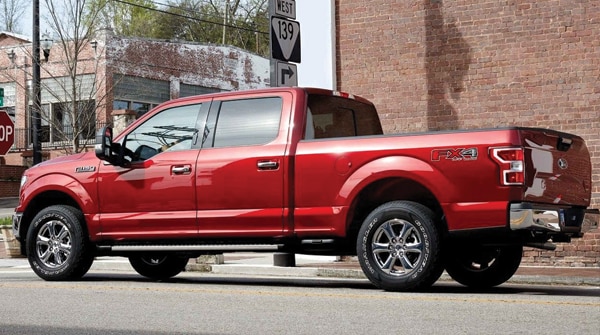 It comes as no surprise that the company that brought us both the best-selling truck for 40 consecutive years and the track inspired Mustang would also give you six impressive engine options for the 2018 F-150.
In no particular order, we present Engine Option #1:
If you tow and or haul heavy items on a regular basis, then look no further than Ford's new 3.0 liter Power Stroke+ Turbo Diesel engine. This workhorse is available on not only Platinum models but is also an option on the King Ranch and wildly popular LARIAT models. This power plant generates a Best-In-Class 250 horsepower and Best-In-Class 440 lb/ft of torque. With 440lb/ft of torque, one would expect a healthy payload Ford did not disappoint. The 3.0L Power Stroke Turbo Diesel clocks in with a Best-In-Class payload of 8,500 lbs GVWR.
Engine Option #2:
Ford has used its tried and true 3.5 lite six cylinder Eco Boost+ engine in several models over the past few years. For 2018, Ford upped the ante and rolled out the 2nd generation of this engine. The efforts of their labor was an engine that produced a muscular 375hp and best-in-class 470 lb/ft of torque. One of the most significant improvements on the 2nd generation was the addition of Fordfirst port fuel and direct injection (PFDI). The PFDI paired with all-new twin-turbos and Ford's 10-speed automatic transmission has proved to be a fantastic option for truck owned that are looking for on-demand power.
Engine Option #3:
Ford also introduced the Fordfirst port fuel and direct injection (PFDI) on its 2.7 liter Eco Boost six-cylinder engine. This tandem allows Ford to register a healthy 325 horsepower and 400 lb/ft of torque. To demonstrate the capabilities of this engine, Ford displayed it in the 2013 Baja 1000. The only thing that engineers needed to do to complete the race was to swap out an air filter. To top it off, the engineers then drove the street-legal version of the truck all the way back to Michigan.
Engine Option #4:
New for 2018 is Ford's 3.3-liter Ti-VCT six-cylinder engine. What is Ti-VCT you ask? Well, that stands for Twin independent variable cam timing. This system allows both the opening and closing of valves to coincide with the proper demands of the current driving conditions. The result is a robust 290hp and 265 lb/ft of torque.
Engine Option #5:
Ford has long been known for its 5.0L eight cylinder engine. The latest version of this bulletproof engine comes in a Ti-VCT configuration that allows it to churn out 395hp and 400 lb/ft of torque. This combo of horsepower and torque work together to achieve a best-in-class payload of 8,500 lbs when properly equipped.
Engine Option #6:
For those who are seeking a supreme off-road capable vehicle that can also be a daily driver, Ford offers up the F-150 Raptor. As its name might imply, the Raptor is at the top of the F-150 food-chain. For starters, the Raptor comes equipped with a twin-turbo, DOHC, 24-valve High output, 3.5 liter Eco Boost six-cylinder powerplant paired with a 10-speed automatic transmission. What does all that technology get you? Well, for starters, a heart-pounding 450hp and 510 lb/ft of torque. For a frame of reference, this engine out produces it's 6.2 liter V8 predecessor.
With so many amazing F-150 engine options, the best thing to do is to swing by Friendly Ford in Poughkeepsie and drive them all for yourself.